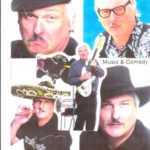 The Crazy Aussie Live! – Saturday Nov 25th
7 pm – Come see this great performer from down under. He is musical, he is funny, he is a one-man show!
Tickets are only $12 and available at the bar . Bring your friends – this event is open to the general public (all persons must be over 18 years old).